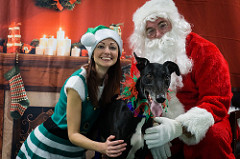 Get your holiday photos taken and benefit MoKan Greyhound Adoption too!
Who: Anyone is welcome. all breeds of dog, other animals, kids, families
What: You will you get a link to your digital images via e-mail to be downloaded at your convenience!
Where: Tail Waggin PetStop at 1818 Wyandotte St Kansas City, MO 64108 in downtown Kansas City, MO
When: Saturday, November 10th from 10:30am -4:30pm, appointments preferred, walk ins may have to wait, each sitting is 15 minutes long.
Cost: $25 donation to MoKan Greyhound Adoption. We accept cash, credit card and checks.
To make an appointment, click the link below and find November 10th on the calendar. We have a limited number of appointments, so book yours today!!